History
Sound Quest DJ's has been serving the South Carolina's music and entertainment needs since 1991. At Sound Quest DJ's we love to entertain, and all of our employees have great knowledge of all types of music. We never try to just meet your expectations ~ we strive to exceed them! From small rooms to ballrooms, we have what it takes to make your special occasion an event to remember!
Our Story
In 2010 Hal & Cheramie Deadwyler went to dinner to discuss an opportunity to buy a DJ entertainment company that Hal had been working with. After dinner, they received the check and Hal opened his fortune cookie. After reading the fortune the decision was made!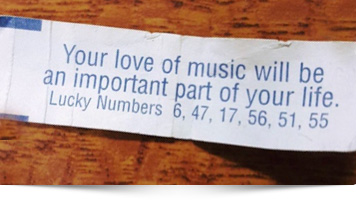 Since then they have worked extremely hard to provide a quality and reliable DJ entertainment service. Our dedicated staff consists of highly experienced professionals who genuinely love what they do and take pride in every aspect of the company. We believe in providing excellent customer service and will not be satisfied until we know your event is a huge success.
Our friendly, knowledgeable office staff is always willing to answer questions and offer advice for planning the perfect event; and with a full-time office staff, you can expect someone to always be available to receive your phone call or promptly return your voicemail and/or email.
Hal's still carries this fortune in his wallet. Sound Quest DJ's will continue to make our love of music an important part in all of our customers lives!